Know More About Rajasthan
Rajasthan is one of the most popular travel destination in India. Every third foreign tourist visiting India also travel to Rajasthan
About Rajasthan
Best Time to Visit Rajasthan
10 Top Tourist Places to Visit in Rajasthan
Rajasthan Tourism Information
Rajasthan is one of the most popular travel destination in India. Every third foreign tourist visiting India also travel to Rajasthan. Known for Historical Monuments, the modern Rajasthan Tourism is benchmarked for the warm hospitality and Internationally Awarded Hotels & Resorts. Here you'll see a perfect amalgamation of ages old traditional culture, modern luxury and comforts. Touring Rajasthan is a unique experience which leaves you spell bounded as you explore it more & more. The major Tourist Destinations like Jaipur, Jodhpur, Jaisalmer and Udaipur are well interconnected to take up a round tour in form of Itinerary. Rajasthan also connects to other popular places like Agra, Khajuraho and Varanasi.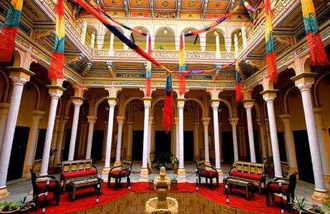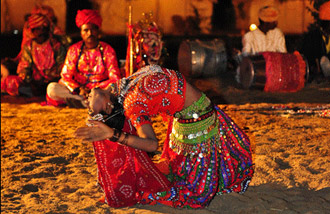 Best Time to Visit Rajasthan
Locals and travel experts recommend the period between the months of November to February as the best time to visit Rajasthan. Summers are scorching whereas during winters, temperature come down to the bottom of the mercury level. Plan your trip to Rajasthan by getting to know the season, climate and which places to visit in Rajasthan at which time of the year.
| | | |
| --- | --- | --- |
| Summers | April to June | 24°c - 45°c |
| Monsoon | July to Sep | 21°c - 35°c |
| Winter | Oct to March | 10°c - 27°c |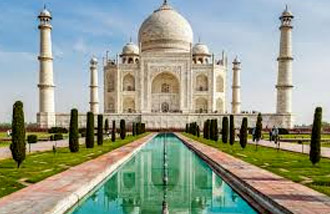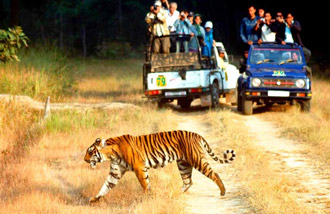 10 Top Tourist Places to Visit in Rajasthan
Jaipur
The "Pink City" of Jaipur is full of ancient palaces and forts, with most of them boasting stunning views and elaborate architecture. Jaipur forms part of India's popular Golden Triangle Tourist Circuit, and lures visitors with its evocative remnants of a bygone era. A visit to Jaipur will give you a feel for how the monarchy once lived in all its glory. Staying in Jaipur is also particularly enjoyable. The city has some incredible heritage hotels that have been converted from old palaces, giving guests a very regal experience!
Udaipur
Udaipur is an enchanting place full of old mansions, beautiful gardens, intricate temples, and grand palaces overlooking expansive shimmering lakes. The City Palace, which stretches along the eastern shore of Lake Pichola, is a highlight. The way it has been constructed is exquisite, with Rajput military architecture and Mughal style decorative techniques both combined together. Its museum displays many royal heirlooms, family photos, and other memorabilia.
Jaisalmer
Jaisalmer is often referred to as being straight out of a romantic Arabian Nights fable. It's a cliche, but how better to describe this remarkable sandstone city that rises magically from the sand dunes of the Rajasthan desert? Jaisalmer's mesmerizing ancient fort, built in 1156, is perched high on a pedestal overlooking the city. Inside, the fort is alive and spellbinding. It houses five palaces, several temples, and some exquisite havelis (mansions), as well as shops and other residences.
Jodhpur
Affectionately known as the "Blue City" for its blue painted buildings, Jodhpur is the second largest city in Rajasthan. The walled old part of the city is presided over by the looming Mehrangarh Fort. One of the largest forts in India, it's the pride of Jodhpur. Every October it has the honor of providing the setting for the Rajasthan International Folk Festival. Inside the fort are a number of palaces, and a museum. The fort is also an excellent place to view Jodhpur's blue buildings.
Ranthambore National Park
Ranthambore National Park is full of history, having witnessed many battles played out on its land, and the rise and fall of many rulers. The chances of spotting a tiger in the wild at Ranthambore are amongst the best in India. In contrast with many national parks in India, Ranthambore is also really accessible and easy to get to. The landscape is dominated by the formidable 10th century Ranthambore Fort. It's a huge structure that contains ruined pavilions, splendid monuments, and three Hindu temples. Warning: Ranthambore is facing a lot of tourist pressure and safaris are not well managed.
Pushkar
For most of the year, Pushkar is a sleepy little holy town that attracts a lot of backpackers and hippie types. Pushkar really comes alive for a couple of weeks in October/November, when the Pushkar Camel Fair comes to town. It's a peculiar sight, and a great opportunity to witness an old traditional style Indian festival. Puskar is worth a visit at any time of year though if you want to chill out. However, it's not like it used to be there. These days Pushkar is becoming much more westernized and tourist focused. The priests by the bathing ghats (steps) are known to be very forceful in demanding donations too. Avoid that area, and head to the Pushkar market for some great shopping instead!
Shekhawati Region
If you're an art lover, or even someone who's into architecture and history, the Shekhawati region of Rajasthan is well worth including on your itinerary. Located in the triangle of Delhi, Jaipur and Bikaner, many people overlook it in favor of more popular destinations in Rajasthan. However, this unique region is often referred to as the world's largest open air art gallery, with old havelis (mansions) having walls adorned with intricate painted frescoes.
Bikaner
The vibrant desert town of Bikaner receives less tourists than many other prominent destinations in Rajasthan. It's an excellent place to go on a camel safari, as an alternative to Jaisalmer. The main attractions are the atmospheric walled Old City and fort. Bikaner is also renowned for the infamous Karni Mata rat temple nearby. The Karni Mata Festival, held to worship the rats there, is one of the quirkiest festivals in India. A Camel Fair is also held in Bikaner every January.
Bundi
Although quite popular with travelers, Bundi also often gets overlooked as a tourist destination in Rajasthan. Yet, it's a captivating place to visit, with its lakes, markets, temples, and blue houses similar to Jodhpur. This relatively laid back town is dominated by the extraordinary and imposing Bundi Palace, which protrudes out of the hillside. The ancient, winding lanes of the Old City are fascinating to wander through. Bundi also has around 60 step wells and a ramshackle fort above the palace. The Folk Tales specializes in rural travel and offers an interesting Rustic Charms of Bundi Itinerary.
Rural Rajasthan
Rural tourism is growing in Rajasthan, with Bishnoi and Pali becoming sought after destinations for getting off the beaten track. Bishnoi is a community of nature worshipers around 45 minutes from Jodhpur and can be covered in a day trip, while Pali is a bit further out and needs at least an overnight stay. Bishnoi Village Safari organizes trips and also accommodations. You'll find village life to be fascinating. You can even attend a shepherds' morning opium meet.